NAME: Calum Neff
RESIDENCE: Houston, Texas
AGE: 31
FAMILY: Married to Julie Neff with two children, Alessandra who is 3 and Holland is turning one at the end of February.
OCCUPATION: Operations Manager for an oilfield service company
Introduction: Calum broke the Guinness World Record for fastest time pushing his daughter, Holland, in a stroller while running a half marathon on Saturday, February 6, 2016. His time was 1:11:27 at the Katy Half marathon in Katy, Texas. 
What was the Katy Half Marathon course like? Were the roads conducive for pushing a stroller? Did you encounter any challenges along the way associated with pushing a stroller and your daughter?
The Katy Half marathon course is flat and smooth. Katy, Texas, and especially this area, is all so new and we are only an hour north of the Gulf. We woke on race morning to a large thunderstorm rolling through. Thankfully it cleared, but it left the roads wet and a little tree debris along the way. At times there was a light headwind which was my biggest concern, as nothing is harder than pushing a stroller into the wind. Apparently a car accident at mile 8 was cleared from the course just 3 minutes before we came past, which would have put a stop on the race.
[metaslider id=2248]
I interviewed Michael Wardian, who holds the Guinness World Record for a full marathon while pushing a jogging stroller. Do you have that record in your sights?
I think we have a great shot at the full marathon stroller record currently held by Michael Wardian (a huge idol of mine) at 2:42. I think we can break the 2:30 barrier. Without a stroller, I am going after the 2:20 barrier, but am yet to pick a location for either race. Interesting note – Wardian still officially holds the record (Guinness) despite Zac Freudenburg winning a dual at the 2009 Route 66 Marathon in 2:32:10! Either way I'd like to be under both marks when I go after it. Stay tuned!
When did you start running competitively?
My first race was the 1988 Cajun Cup in Lafayette, Louisiana at the age of 4. My dad was doing the 10k. Growing up, I watched him run many marathons and road races as we moved around the world with his job. When I was 9, I started track and also moved up to the 10k, running 40 minutes which was good enough to beat my dad for the first time!
On average, how many days per week and miles per week do you run?
Its really variable depending on work load and family, but I'll run 5-7 times a week. A day off is always great! I will run anywhere between 30 and 80 miles per week.
Do you work full-time and what kind of hours do you work?
I'm an operations manager for an oilfield service company that has developed a technology called acoustic telemetry, sending data uphole during drilling and completions operations using sound waves along the drillstring. Its a fairly typical 9-5, but I always have my phone on me, and during actual operations, its not uncommon for me to pull some all-nighters.
What is your proudest running achievement outside of this recent record?
Growing up, my goal was to go to university on a track scholarship. That was a big achievement. I originally attended the University of Arkansas at Little Rock and later graduated from the University of Houston. Making the Canadian National Mountain Running Team and competing at the IAAF World Championships in Poland and Wales the last few years has been amazing. Anytime you can represent your country is a huge honor. My win at the inaugural Wings for Life World Run, where I was the last runner to be eliminated in all of North America after running 36.36 miles in 4 hours, was a huge breakthrough for me.
What are some of your upcoming running goals? 
I will be running the LA Marathon after watching the US Olympic Trials this weekend. My next goal race is the Wings for Life World Run in Niagara Falls, trying to run 50 miles before the catcher cars eliminate me this time. Later in the year I'm looking at the Trail Racing Over Texas Franklin Mountains Sky Race 50k.
Does your wife run? Do the kids enjoy races and running yet?
My wife completed a 5k right before we started to have kids, but says I do enough running for the both of us. Our eldest completed her first race at 3 years old in the fall; a one mile at the Trail Racing Over Texas Next Generation event. Not competitive, just a fun trail run with Dad. My wife and kids enjoy spectating, too, and are my biggest fans. I can't thank my wife enough for her support.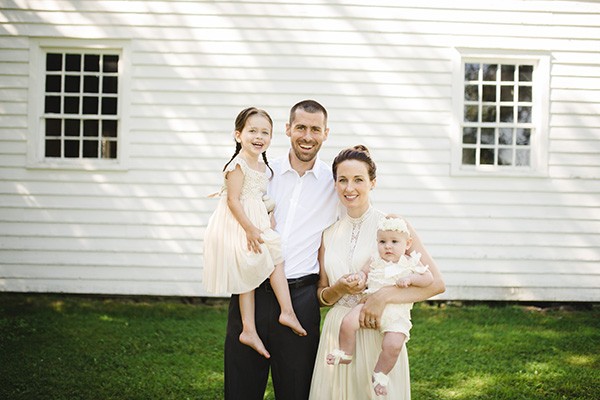 When not running, what are some your other hobbies and interests?
Before moving to Texas, I was really into the mountain sports like rock and ice climbing, hang gliding and paragliding, and backcountry skiing. Lately, I've been more into photo/videography after getting a drone for Christmas. We try and do a family hike every weekend just around the Houston bayous, and sometimes I'll even paddle around in the kayak. I've still found some pretty cool adventures in the concrete jungle of Houston.
What are your kids interested in?
Aley has a great imagination, can spend hours outside playing. I built her a rock climbing wall up the side of the playhouse complete with a counter weight auto-belay. It's been cool to watch her progress on that. Holland is just into crawling around and putting everything in her mouth!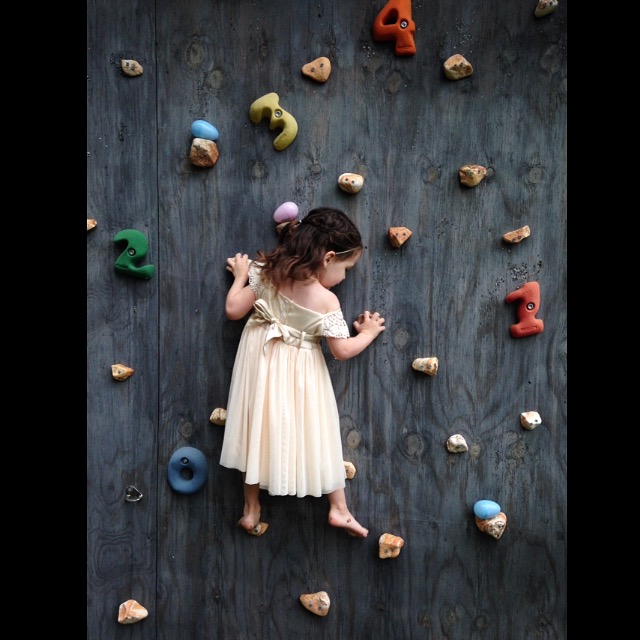 How do you find the time to manage family and your running?
I think when you love something, it's not a matter of finding time. Family, running, and yes, even work, I care about, so I have the time. I'm not worried about missing a day of training or even trying to make it up. You have to be flexible. My wife also helps a lot and I can feel guilty about missing dinners and bedtimes, but it makes the time I do spend with them that much more important.
What has been the toughest challenge of balancing running, work, and a family?
I think the relationship with my wife is the toughest but most important. It's hard when I have to work all day, feel like I have not got to do anything for myself (like getting in a run), and come home to a busy house. But it's just as tough for my wife finding her time. Sometimes we have to have a little talk about re-balancing the priorities, but the important thing is, we do talk. She sees the importance and value in everything I do and is always supportive. Having my own time with the girls is also very important. The relationship and type of love is different between parents, so being able to share my activities, or just play wrestle with them when I get home from work is all part of their development and the balance.
What is your favorite running workout? 
Since my weekdays can be very busy I'm very much a weekend warrior. Racing any distance and terrain is a great way to maintain fitness. If I'm not racing on the weekend, my bread-and-butter for marathon training is the long run. This is not the same as it was in college; a causal social run for 90 minutes; but rather a very hard workout, playing with marathon pace for up to 24 miles.
My favorite workout has been the Moneghetti Fartlek: 2 x 90 seconds, 4 x 60 seconds, 4 x 30 seconds, 4 x 15 seconds; all with equal but fast recovery in between. The first rep usually starts out around 5k pace and gets faster from there. It's a great workout because it only takes 20 minutes total, hits on a ton of paces and energy systems, and is comparable from one to the next. I think my best has been to cover 6,100 meters, that's 5:17 per mile average INCLUDING the recoveries.
How do you manage your diet? Are you on a strict diet or do you just do your best to maintain a running/racing weight?
The last couple years I have been focusing on reducing my sugar intake. I used to be pretty bad with the sodas and desserts, not that it really effected me too much, but now I'm trying to get that last few % of performance out of my body. In reducing my sugars and carbs, I've increased my fat intake and will also do some of my big runs before any intake, and no nutrition during the run to become more fat adapted. This makes carbs that much more powerful when they are strategically used, especially around racing. I still do have lots of carbs and really listen to my body as to what it is craving. When I've done strict diets it was not enjoyable for me or the family. Its important to cycle through changes in diet the same way you do phases in your training, depending on workouts, races, and recovery. My weight is fairly steady around 155 lbs, but I'll drop to 150 lbs for race weight and up to 160 lbs during recovery.
Any advice for running moms or dads?
Get a good stroller. After trying many, I highly recommend the Thule Glide. Try and make your runs about a destination – a park, a view. We've even brought fishing poles. It gives you a halfway point to get to (meaning you still have to run home) and makes it enjoyable quality time for everyone. Take your kids to a track. They are generally quiet, safe, and fenced in, which allows you to get your workout in and them to burn some energy, too. Bring snacks, drinks, toys, and music for your kids. We try and leave the tablet at home. Another great tip is to commute by running. I don't just mean to work. If we go out as a family, I will bring my running gear and get dropped off however far away from home I need to run on the way back. While living in Canada when my wife was pregnant she would drop me in the mountains and I'd run a trail over the pass, and she'd drive around the mountain to one of her childhood favorite camp grounds that served ice cream to meet me there. Win-win for everyone! I love one-way runs and ice cream! Find a way to include your hobby in your life. Your kids are watching and taking it all in more than you know. You are their biggest role model they will ever have.
Thank you to everyone for the overwhelming amount of support!