Sixteen weeks of training came to a conclusion on a cool and windy St. Patty's Day. I ran my first full marathon March 17, 2013 at the Shamrock Marathon in Virginia Beach. This experience was the ultimate test of being a Running Dad. It took a lot of patience and cooperation from my family to make it all come together.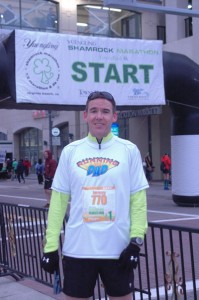 Below is a recap of the race. I will write a separate recap of how the family got along over the weekend. Last things first, though …
I FINISHED!
Official time = 3:17:16.
158th place of 2,991 runners.
Average pace = 7:30 min/mile
Sunday morning, I rolled out the hotel onto the boardwalk to head up to the starting line ten blocks away. The race start time was 8:30, so I got there plenty early – 7:20. It was cold and windy, so between the temperature and my nerves, I had the shivers.
Runners were split into 4 corrals, depending on their estimated finishing time. I had estimated a 3:30 finish time, so that put me in corral 1. I had run into a fellow Shenandoah Valley Runner at the packet pickup the day before and he told me he was shooting for 3:15 – his age group Boston Qualifying time. So I knew he would be in corral 1 as well. Sure enough, I found him with the 3:15 pace group. Shane is known in the SVRunners as being a cheerleader. He is always at the finish line hollering for everyone as they come across. So I knew he would be fun to run with for as long as I could keep up with him.
They got everyone settled into the starting area and sang the National Anthem. Shortly there after, Leprechaun Bob declared the start of the race.
The course starts on Atlantic Avenue parallel to the boardwalk heading south. Shane and I were pretty close to the front and off to the right side. Since Atlantic Ave. is wide, we never really got encumbered in any traffic at the start. I had pictured the race start with so many people that it would be a cluster getting out of the blocks. The 4 different starting groups really helped make it a smooth start.
Since Shane was aiming for 3:15, we stuck with a group of runners led by a runner holding a sign up with 3:15 on it. These volunteers do their best to keep a steady pace and finish at as close to or before their chosen pace.
The course took us down Atlantic Svenue and across a bridge. The bridge was the only "hill" on the course. We ran past the Virginia Aquarium and out to Camp Pendleton. Along the way we past several bands playing music – from Irish folk songs to rock. That provided a nice boost. There were also plenty of water and Gatoraid stations.
Having Shane to talk to helped make the miles go by a lot faster. He and I ran in front of the pace group almost the whole race, so we kind of paced the pacers.
Running through the military base, we passed troops who were cheering and offering up high fives. The course doubled back at this point and took us back the way we came. We were now passing the runners behind us and Shane was staying true to form, shouting words of encouragement to the oncoming runners. I think our pace group got a kick out of it.
Back over the bridge and onto Atlantic, we then took a right and got on the boardwalk. The wind was strong in our face and we were at the ten mile mark. I was still feeling strong. We were approaching my hotel and I kept an eye out for my family. Sure enough, I see Connor carrying his neon orange "Run Daddy Run" sign down to the boardwalk. I think the whole pace group waved as we went by. Cole got to see his Dad run by in his first marathon. This gave me a boost to carry me on the rest of the way.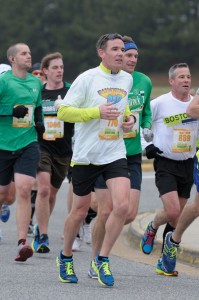 Still out in front of the pace group, we trekked on past the 13.1 mile half way point. At around mile 16, we entered a more wooded area that is void of spectators and a bit on the lonely side. Add in the slight sideways slope to the road and this 4 or 5 mile stretch was probably the least fun. But Shane and I found a fairly flat path on the bike trail to run and fist-bumped on each mile mark we passed.
We arrived at another military base and were greeted by more troops who offered bananas and jelly beans. I snagged a banana and a drink. Eating real food while running at a 7:20 minute mile is a challenge! I had taken a Hammer Gel each hour to keep myself fueled.
At mile 22, I could tell Shane had a bit more fight left in him than I did. He would get about ten feet in front of me, then I would hurry and catch up. This went on for a little while until my pace dropped to about a 7:45 minute mile. I was running solo now.
What better pick-me-up after over 20 miles of running than beer! Along the residential area, there were partiers set up in their yards offering cups of beer. Why not! By this point, I was pretty good at grabbing the cups and actually getting some if not all in my mouth. I can tell you though that beer up the nose is not pleasant. I think I grabbed three beer cups by races end. They were small and I ended up wearing most of them, but how could I pass up free beer.
The final stretch puts you at a turn onto the boardwalk. There is still about a mile to go, but you can see the finish line. My pace was down to about 8 minutes per mile and I was feeling the muscles in my legs starting to get twitchy, like they could cramp at any time. But the finish line kept getting closer and closer. I passed a lot of runners in the last 6 miles that had to stop for cramps. I am glad I never had to stop or fall below a decent pace the entire time. And the fan support on the final stretch was truly awesome. They put your name on your race bib, so people cheer you on by name.
Approacing the finish, Leprechaun Bob announced "From Stephens City Virginia, Jeremy Sanders". I knew my family would be near the finish line, but I had tunnel vision. I crossed the finish line after running three hours, seventeen minutes and sixteen seconds. Marathon Finisher.
After crossing the line, it finally sunk in, I can stop running now! A volunteer handed me my finishers medal which immediately went around my neck. Medics were on stand by for anyone having trouble so they greeted me as I made my way toward the friendly volunteers handing out drinks, snacks and souvenirs – including a Shamrock Marathon blanket. Very nice swag!
I found Shane. He had crossed the line at 3:15:04 ….. 4 seconds off of a Boston Qualifying time. Ouch. At this point we didn't know official times, so we were just happy to be done. I thanked Shane for running with me. It was a race I will never forget. My family was also waiting at the end of the line of volunteers so I reunited with them. There was a party tent set up on the beach, but Cole was sleeping in his stroller and I was beat. So we packed it in and walked the ten blocks back to our hotel to get the car. Those 10 blocks were the most painful part of the day. Thank goodness for the blanket they gave out. It was a life saver.
For a first marathon, Shamrock was perfect. Having a friend to run it with made it even better. Having family there to cheer me on just made it the perfect experience.
Now it is on to the next one ….