I didn't know I was a runner until I was 35 years old. What started as a way to lose a few pounds turned into a complete lifestyle change. I went from downing beers to setting personal running records nearly every time I toe the line for a race. With two active boys, I need to be able to keep up. I want to be a superhero in their eyes. I am a Running Dad.
RUNNING DAD PROFILE:
NAME: Jeremy Sanders
RESIDENCE: Stephens City, VA
AGE: 42
FAMILY: Married with 2 kids
OCCUPATION: Graphic Designer, Running Coach
Cerifications:
RRCA Level II Certified Adult Distance Running Coach
RRCA Level II Certified Youth Coach 
USATF Level I Running Coach
PERSONAL BEST RACE TIMES: 
Mile = 4:55
5K = 17:11
10K = 37:01
Half Marathon = 1:21:27
Marathon = 2:59:49
50 Miler = 8:45:44
100 Miler = 22:15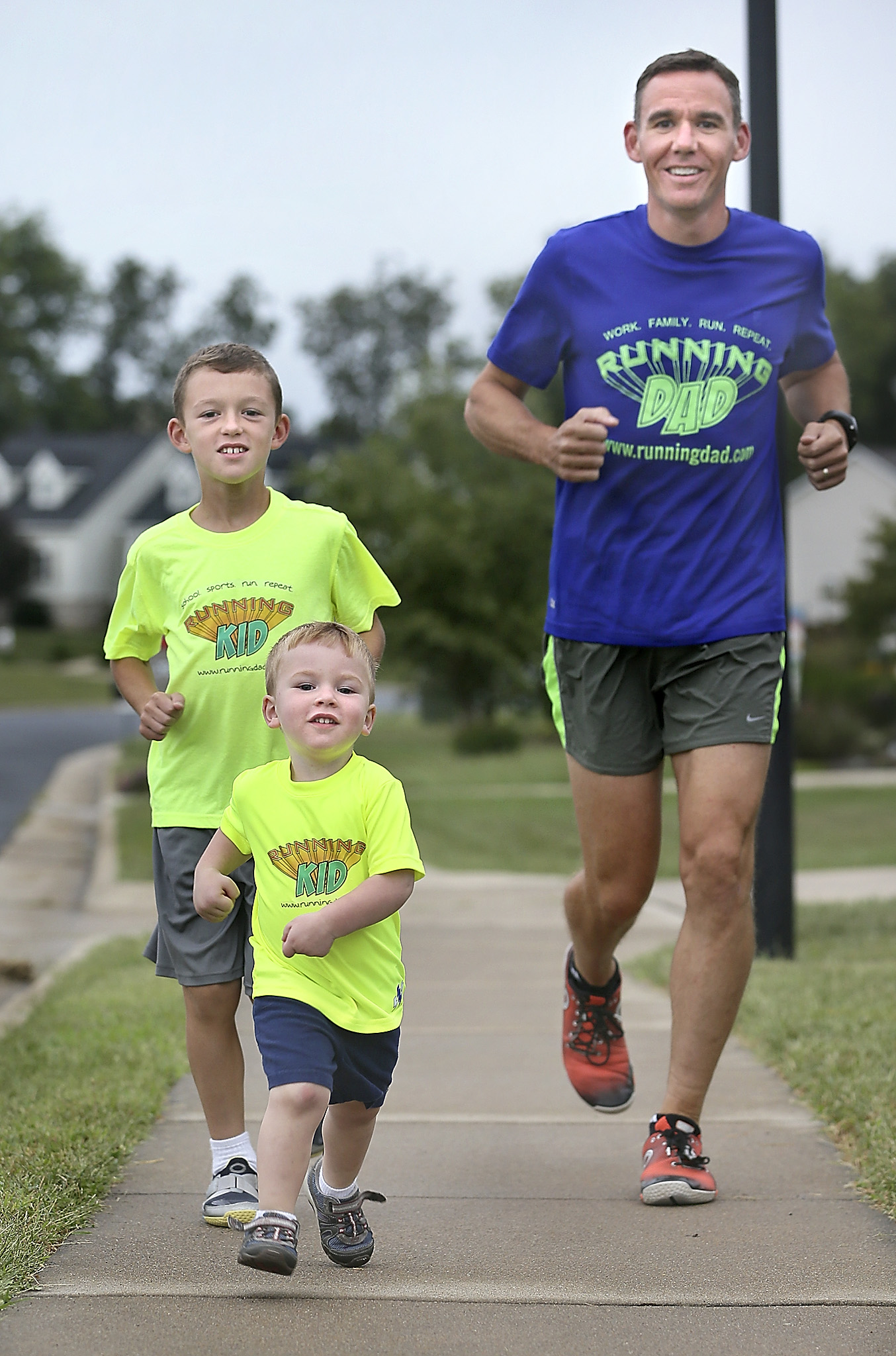 I am a father of two boys; Connor, age 13, and Cole, age 7. I am a full-time graphic designer and also a certified running coach. When not at the office or chasing the boys around a sporting venue, I try and squeeze in as much time as I can to my own sport; running.
Running has become a life changing outlet. In 2004, my wife, Jennifer, and I welcomed our first child, Lucas into the world. Lucas' stay was short. He was born prematurely due to a condition called Hydrops Fetalis. It is a condition which is characterized by excessive fluids in the baby's body, which effects the respiratory and heart functions. Jennifer was rushed to the University of Virginia Neonatal Care Unit where Lucas was delivered on September 18, 2004. Although his heart sounded strong while in the womb, Lucas only lived a short while after entering the world. He blessed all who knew him and strengthened the character of his family. His story can be found at ForLucas.com.
For a period of time, my life revolved around a stressful self-owned business, and drinking. This lifestyle caused many negative impacts, both physical and mental. In 2011, it was time for a change.
I started running in July of 2011. I weighed 215 pounds. Since then I have run many 5k's, 10k's, half marathons, full marathons, 50k, and 50 milers. During that time, I have lost over 40 pounds. Along with changing my own life, Jen and I try and change the lives of the families who are in the same situation we were were in back in 2004.
We started The Lucas Fund, which raises money for the babies and families that need the services of the University of Virginia Neonatal Intensive Care Unit. The money donated goes toward everything from blankets and binkies, to equipment and research. For every mile I runs, I donate a dollar to the The Lucas Fund.
In the meantime, Jen and I added two boys to Team Sanders in 2006 and 2012 – Connor and Cole respectively.
My goal is to help others find health and focus through running. I became a Road Runners Club of America Certified Running Coach in 2015. In my first couple years of coaching, I have helped several runners complete half marathons and full marathons; including two Boston Qualifiers. I also help runners who are simply looking for a way to stay active, fit and healthy.
I have realized that setting seemingly impossible goals and then crushing them is what drives me to strive for bigger and better things in my running life, and also my personal life. I hope to instill this principle on my kids and anyone else who wants to be the best they can be.