Throughout my training process, fellow runners have given me some tips and advice for what to expect from my first marathon. Below are some that I found helpful. Please comment with your tips or tricks.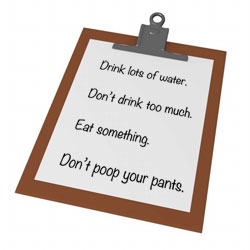 Get up early and give yourself time to eat before the race. I plan on eating a bagel with peanut butter and having a cup of coffee. Then leave plenty of time for breakfast to digest.
Get to the course early to find your starting coral. I like to be early for everything so this should not be a problem.
Pace yourself at the beginning. I know my adrenaline will be pumping. I will have to keep an eye on my Garmin to monitor my pace.
Don't forget to hydrate. Everyone has reminded me of this and I have debated back and forth between just using the water stations along the course or carrying my own water.
Don't over-hydrate. Ok. Moderation. Not one of my strong suits. I will do my best to be smart about it.
Take in calories while running. I don't want to hit the wall at mile 20, so I plan on having a Hammer Gel each hour. I may grab a banana or pretzels at the water stations as well.
Don't poop your pants. Thanks for the tip ….
Your nipples may bleed. Wait … what? Seriously? I guess I will pack bandaids.
Run the last 10k hard. Hopefully I still have some juice left.
Any other pointers?