RUNNING DAD PROFILE:
NAME: Mark Stickley
RESIDENCE: Winchester, VA
AGE: 50
FAMILY: Married for 13+ years, 3 kids (2 boys and 1 adopted girl)
OCCUPATION: Running store owner – Runner's Retreat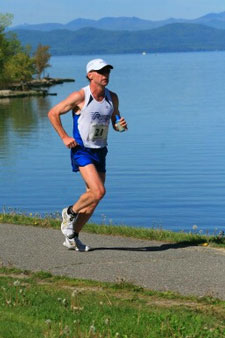 Why do you run?
I ran competitively for 32 years. It's in the blood!
How often do you run?
4-5 times per week
What was the most recent race that you ran?
I ran the Berryville Turkey Trot with my youngest son back in November 2012
What is your fondest running memory or experience?
Too many to think of just one…. but here are a few:
Placing 4th in the 1984 Jacksonville River Run 15K. I was still in college and could not accept the $3000 prize money. But my time (43:19) was the 8th fastest ever by an American (and a world record for 21 year olds)
Beating Frank Shorter in the 1984 US National championships 10,000 meter and qualifying for the Olympic Trials by 0.03 seconds (my time was 28:45.97)
Beating Alberto Salazar in the 1984 US World Cross Country Team Trials to make my first US team
5th in the 1988 Houston Marathon (PR 2:17:13) and 5th in Columbus Marathon in 1992 (2:18ish)
Youngest finisher in the 1984 US Olympic Trials Marathon (19th overall)
Qualified for Olympic Trials 3 times
Made 4 US World XC teams
My 4 fastest Half Marathon times – PR of 1:02:19 – are still in the US top 50, but dropping a little each year!
Inducted into the Virginia Tech Hall of Fame in 2005.
I have run in all 50 states and about 20 foreign countries.
What are your running goals?
Well, my knee injury has sidelined my goals as a 50+ year old runner. I run vicariously through my kids.
Do your kids run?
Yes. They love to run races and run around on my parents farm. But I do not have them in training, so to speak.
Have you found a balance between running and family and work?
Somewhat but not as well as I'd like. Having my own business means I work more than I used to when I worked as an engineer!
Any thoughts, suggestions, experiences you can share about how running affects your life?
I never thought when I started running in 8th grade that running would not only help me get through college but gave me unbelievable experiences and opportunities to meet fascinating (and fast!) people. And being able to make a living as a professional runner (albeit a poor, starving one) and now to have a store devoted to running is something I never expected or even dreamed of. I'm thrilled to be able to make a career out of my passion!