I am proud to have a group of runners in the Richmond Marathon on Saturday, November 14th, 2015, representing the Lucas Fund and honoring my first son, Lucas Carson Sanders. I consider these runners great friends and dedicated athletes. Several of which I have helped to train for the past few months to meet their goal at this event. I will be in Richmond to cheer them on and share in their persuit of personal accomplishment. Most importantly, Jen and I will be there to thank them for supporting the charity that helps babies and families at the University of Virginia Neonatal Intensive Care Unit. So, let me introduce you to Team For Lucas – Richmond 2015.
Alex Lane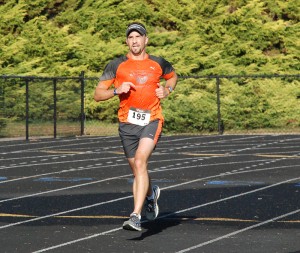 Alex is 33 years old, lives in Winchester, Virginia, and has been a great supporter of the Running Dad / For Lucas cause for several years. He can be seen at local races sporting a Running Dad shirt. He asked me to help train him for the Richmond Marathon and I gladly accepted the challenge.
Married with two children, Alex works as a Construction Project Manager. So finding time to train is a real challenge. "This is one of the biggest challenges of them all," says Alex. "I have learned that I can't let my running addiction get in the way of my beautiful family life. So most of my running, and especially for this marathon, has come early in the morning while my family is still asleep. I have also learned to take my family with me running. Whether it be my son in a running stroller, or my entire family to events, they have become part of my addiction. My number one fans!"
Alex started running consistently about 5 years ago. "I clearly remember running an Alumni Shenandoah University race and going 'Wow! I am out of shape!' I ran a 5K at that time. 29:59 and thought I was going to die," Alex recounts. "At that time I told myself and my wife that I had to get off the couch and get back in shape, as we had plans to have kids soon. I want to be that dad that went places did things with the kids and had plenty of energy to keep up, so the journey started there."
In the early days of Alex's running hobby, he ran 3 days a week. That has now grown to an average of about 6 days a week, and has gone as long at 20 days in a row.
"I was almost 220 pounds when it all started. Now, I am comfortable at 175 to 180 pounds." Alex's running accomplishments include finishing his marathon (3:47), running a sub-18 minute 5K, and running a sub-5 minute mile.
Looking forward, Alex has some goals lined up to focus his energy on. "My very near future goal is to qualify for Boston in November at the Richmond Marathon. After that, I believe the focus will be a sub-17 minute 5k."
From a coach's perspective, Alex has done really well with the training for the Richmond Marathon, his third. I asked Alex how he thought his training has been this time around. "The Richmond Marathon training has been going very strong. I can't say enough about Coach Jeremy. He has kept me in check and kept me motivated each and every week to keep driving forward." Alex's goal time for Richmond is a Boston Qualifying time (3:05 for his age group), and if all goes well, a sub-3 hour finishing time. "I have four goals at Richmond: Finish the marathon, PR the race sub-3:47, qualify for Boston, and go sub-3:00."
Alex offers a few words of advice for runners. "Start easy. It is not something that happens overnight, as you can see over my 5 years. But most of all, keep your family #1. Keep them involved and enjoy life as it is given to you."
---
Mario Zuniga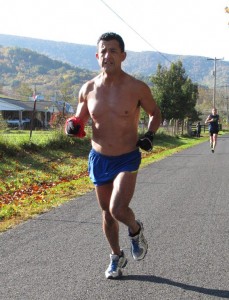 Mario is a retired Navy Stationary Engineer. He is 51 years old and lives in Front Royal, Virginia. Mario started running in 1997 when he was in the Navy, stationed on the Island of Guam. His goal: to stay in shape. Mario has maintained that fitness and is a landmark in Front Royal as "that guy I see running all the time".
"I live alone with my two dogs. They do not mind me running as long as I take them out for a walk after each run." Mario is a staple of the local running scene here in the Shenandoah Valley and he and I have battled it out for several years.
Mario runs 4 to 6 days a week depending on his work schedule. His schedule has made it difficult to build a consistent marathon training plan, but when Mario goes, he goes all out! He did great with all of his long runs and will do great in Richmond.
On Mario's running resume is US Masters indoor Track and Field Champion (Relay) and Wine Country Half Marathon PR 1:24. His next goal is to qualify for the Boston Marathon at Richmond.
"I think my training is going good, but I could be better. I need less hills, more flat roads." Front Royal is not flat, that is for sure. "I'd like to run sub-3 hours. It is not going to be easy, but I am going to try my best."
Any advice for other dads or moms looking to start running? "If I can do it, so can they. You are never too old to start running."
---
Sara Ilnicki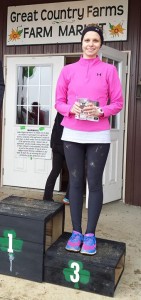 Sara, 29, a Senior Accountant, lives in Front Royal with her husband and daughter. I have been working with Sara for several months helping to prepare her for the Richmond Marathon. She has been great to train and will do awesome at her first marathon. Maybe even a Boston Marathon qualifying time …
Sara started running in high school. She did a season of spring and winter track but didn't care for the competition. So instead, "I ran the family land and through town. I found running to be an enjoyable way to stay healthy."
When not training, Sara runs an average of 4-5 days a week, around a total of 25-30 miles. During training, she was knocking out 50 mile weeks.
"My proudest moment would be participating in the Richmond half marathon in November 2014. Another, I took 2nd place for women at the Bluemont 10k in March 2015."
When asked about future running goals, Sara is not looking past Richmond. "My goal for Richmond is to cross the finish line. Running a marathon has been on my bucket list. However, I thought it would be a couple years down the road. Then, in the beginning of last Fall, when my husband and I were training for Richmond, we received news his cancer was back, aggressive, and he would have to undergo chemotherapy treatments. We decided to continue with training, go to Richmond, and a week later he would start with treatments. In March 2015, he won! Treatments were over, and he was in remission. After hearing other running friends were headed to the 2015 Richmond Marathon, we are excited to return. This will be Josh's biggest race after treatments and I want to be part of it, running the same path he is. Beyond Richmond, my running goals for the future are undetermined. My main focus right now is Richmond. I'm not much of a competitor. I'd rather lace up, and go out my front door. I would like to do a destination race in the future – maybe in Kentucky or California."
As a coach, I could not be more proud of Sara. She started out pushing herself a bit too hard, but once she settled into a steady dose of easy runs with a few effort runs mixed in, her progress and results skyrocketed. "I want to say my marathon training is going well. It's hard to determine when 98% of my training has been by myself, and through the grueling hills of Front Royal. It's a mental game, too, and all I know is: I haven't given up and I'm determined to finish."
Balancing running with family is a challenge Sara has embraced. "If it's something you want to do, you will find time. I run bright and early. Typically I'm up by 3:45 am. This is the time I found to be most convenient. My husband and daughter are still sleeping and it's not intruding on any family or work time. It's a great way to get the blood flowing and start the day."
Sara offers a word of advice: "My advice would be, think of a time during the day where you can slip away for a bit that doesn't conflict with engagements. Involve your child(ren)/ family in your running. My ultimate favorite time is pushing my daughter in the jogging stroller. Now she enjoys running herself at the age of 4."
---
Josh Ilnicki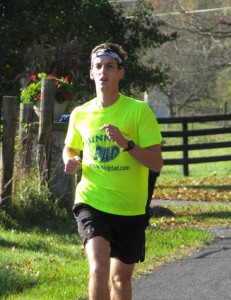 I have featured Josh in a Running Dad Interview which you can read here. Josh is Sara's husband and has had a rough road to Richmond, but he will show his perseverence and meet his goals. As mentioned above, Josh battled Non-Hodgkin Lymphoma for most of 2014. The treatments definitely took their toll on Josh. "The chemo affected me differently throughout the treatments. My first one was the worst. I had an allergic reaction to one drug, Rituxin, which caused me to breakout into hives and made me REALLY itchy. After the second treatment, I began to lose my hair. The remaining 4 seemed surreal. The drugs and steroids would give me waves of lethargy and mania. Unfortunately, it always seemed like I would get my energy during bedtime. I would lay there restlessly on the couch wishing I could fall asleep."
"On the plus side, I was able to eat many foods, even though they tasted a little different, and keep them all down. I did, however, have a lot of intestinal distress. No one wanted to stand behind me."
Even through all of that, Josh was at nearly every race throughout the winter. "Not running for 18 weeks simply seemed impossible. My main goal was to get out and run on days I felt good, usually at least once, sometimes twice, a week. I knew the Apple Blossom 10k would be coming up after my last treatment, and I really wanted to run in that. Plus, the support from my fellow Shenandoah Valley Runners really helped me stay active during the Winter Series."
Josh is now over 6 months out from his last treatment and still cancer free! He will continue to be tested, though. "After my next CT Scan in November, I'll have scans every 6 months. That will then turn into yearly scans and simply being aware of my body and any abnormal growths."
When asked about how his running has gone since the end of treatments; "Amazing! Just recently, I took third overall in the Festival of Leaves 5k and second overall in the inaugural Leaf Peeper Half Marathon in Front Royal, Virginia. Even more exciting, I did the half comfortably at a 6:40 pace the day after the 5k. This gives me great confidence as I continue to train for the Richmond Marathon. At this race I hope to beat last year's time of 3:27:00 while shooting for a 3:15:00 However, the way training is going, I might try for a 3:05:00 which will qualify me for Boston."
Looking past Richmond, and hopefully a Boston Qualifying time, Josh is also looking at the future of runners he coaches and Randolph Macon Academy. "My cross country team is doing really well and we have our eyes set on second place for our conference. Other than that I'm focusing on staying healthy and to keep running!"
---
Jeff Fisher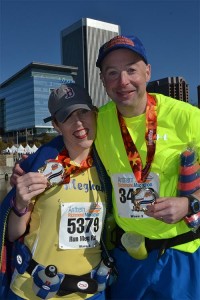 Jeff, age 44, and his wife live in Winchester, Virginia. Jeff works as an Online Marketing Specialist. Jeff contracted my coaching services three months prior to the Richmond Marathon. Jeff has responded well to the twelve weeks of training and stands poised to set a new personal best time.
Jeff has been running about 9 years total, but he only got serious and starting competing in 2012. Prior to that, his runs were all easy, treadmill-based. "I did not really think about competing."
When asked what got Jeff into running, he responded, "Initially, it was to lose weight and tone up. Then it turned into a fun outlet to work off stress and just enjoy myself. Plus, there's a big runner community to share ideas and learn from each other."
Once Jeff got a feel for competing in races, he went for longer distances. "My first half marathon was in Raleigh, North Carolina in 2012, where I ran it in 1:34. I had been training on a treadmill because of where I lived, and this course was loaded with hills. So I was pretty proud of my effort. 10th place overall and I won my age group!"
With Richmond on the horizon, Jeff has a goal in mind. "Ideally, it would mean a lot to me to beat or match my PR from 2012 when I ran this race the first time. Last year went well, the last 6 miles with no pain, so I hope to repeat the same experience."
Jeff's wife had contacted me about coaching him for the Richmond Marathon. After some dialog about goals and expectations, we began a three month training program. I had not personally met Jeff until a week before the the Richmond Marathon. All of the training was online. After twelve weeks of daily interaction, we got to be friends and I hope to work with Jeff on future running goals. When asked how his training has gone, Jeff replied, "Very well! I was pleasantly surprised to see that I could run much more than I thought possible on a weekly basis, and I feel the tempo runs have not only shown me that I can go faster, but that I have more speed in me than I realized. It was really a great mix of training efforts and was never boring."
After Richmond? "I have already signed up for the Charlottesville Marathon in April, 2016. The course is loaded with hills, but I am looking forward to the challenge again. After running it this year, I now know what to expect."
Jeff's words of advice: "Always listen to your body and know when to slow it down or stop. I am very guilty of always pushing myself, especially in the heat or if I'm feeling tired. Pushing yourself too far can lead to injury and some unplanned time off. I am guilty of this too! Also, pay attention to those aches and pains and be proactive to treat them before they lead to something worse."
---
Glen Tortorella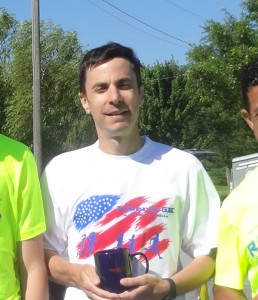 Glen, 46, is married and a father of 5 daughters. He is a Curriculum Developer/English Grader for a homeschooling organization. Living in Front Royal, with a house full of girls, and work at the same time, Glen has managed to find a way to fit running into his schedule.
He started running in the spring of 2012, with his aim being to improve his health and physical fitness. "I had very little experience prior to this, other than a couple of 5k races and some running when I was in the Air Force. I basically took a 15-year hiatus from running."
I asked Glen how he has managed to train for the Richmond Marathon and his other races. "I use a training schedule, and run just about every day. My coach makes up the schedule, and it is based upon a goal race. We employ the periodization approach, and the schedule varies as per the goal race or time of year."
Glen can usually be found near the top of the results at the local racing circuit. When asked about some of his proudest running acheivements, he responded, "Since I have not run seriously for very long, I do not consider myself as having many achievements. My best effort to date was in last year's Battlefield Half, where I posted a 1:26:10, and finished 19th overall, winning the 45-49 age group. I recently finished second overall and posted an 18:57 in a hilly 5k here in Front Royal. How could it not be hilly? It is in Front Royal! This was at the Festival of Leaves 5K. Hence, I am encouraged in regard to my fitness, as I have not done any 5k-specififc (VO2max-oriented) training in quite a while since I have been in a 24-week marathon phase."
As far as goals are concerned, Glen would like to go sub-1:25 in a half marathon. "My primary goal, though, in regards the Richmond Marathon, is a 2:59 finishing time, but I would consider 3:05 or better a success, as I am 46 years old and have never run a marathon."
Managing running and family life is challenging, but only at certain times for Glen. "If I plan well and stick to my schedule, things usually work out happily. The old adage, 'If there is a will, there is a way,' applies well here.
Glen's advice to other parents with a busy schedule can be summed up with two words: "build slowly. I suffered a fractured tibia early on because I failed to do this. I would tell them: 'Do not worry, you will get faster. Train smartly and run within your limits.' I would also add, when racing, never go out too fast. Never. Always have a good sense of your current fitness. This will enable you to run at an even effort, and then finish strongly. Even splits, or perhaps a negative split, should be one's goal. I would also note that one's diet is extremely important. Eat real, natural foods, and avoid bad ingredients and "fake" foods. I am naturally lean and little, and so I must be careful to take in enough calories, proteins, and carbs, especially in a marathon phase wherein I have peaked at 70 miles per week. Enjoy your running and do not be afraid to ask God, a patron saint, or your guardian angel for help, especially when racing."
Shane Curtis
Shane, 47, is an electrician and lives in Gore, Virginia. He has been married for 27 years and has one son. You can always find Shane at local races because he is everyone's biggest cheerleader. He is definitely an ambassador for the running community.
Shane has been running about 4 years. "I went to watch a couple buddies run the Marine Corps Marathon and I started running and going to the gym shortly after."
Shane's proudest running accomplishment was running Boston in 2014. "I came off of an Ironman in October. I had only done a few runs and one 22 miler."
I asked if he was ready for the Richmond Marathon.
"I'm as ready as I'll ever be. Advice? Run with buddies if you can & have fun!"