This winter, it has seemed like my life has revolved around Connor's travel sports. If we didn't have a basketball tournament one weekend, we had a preseason soccer tournament. Or both on the same weekend. We spent a lot of time driving all over the place for his love of sport. We wouldn't trade it for the world, though; watching him grow as an athlete and a person. When I heard he had a soccer tournament in Virginia Beach the same weekend as the Shamrock Marathon races, I had the "Register Now" button clicked before I even finished reading the schedule.
Half Marathon!
Click!
I'm in!
As I mentioned, this trip was really all about Connor, so I had to make careful plans as to not interfere with his game schedule. He needed to be on time and rested for his games. Jen and I only brought one vehicle, so we'd have to figure out how to make it work. We headed to Virginia Beach Friday evening and picked up my race packet on the way to the team's hotel. The drive to the beach is supposed to be four hours, but it always takes longer due to traffic. Connor's team had two games scheduled for Saturday, then Sunday's games depended on how they fared on Saturday. We arrived at the hotel after grabbing a late dinner and got Connor tucked in bed to rest for the busy day ahead.
The first game on Saturday morning, Connor and his teammates came out swinging. They looked sharp. Connor scored the first goal and opened the flood gates for the rest of the team. 10 of the 14 players scored at least one goal. The final was 13-0. The next game was more closely contested, but the boys came out victorious with a 4-2 win. With those results, they were scheduled to play at 9:20 the next morning. My race was Sunday at 7 am. It was going to be a tight window for me to make it to the game.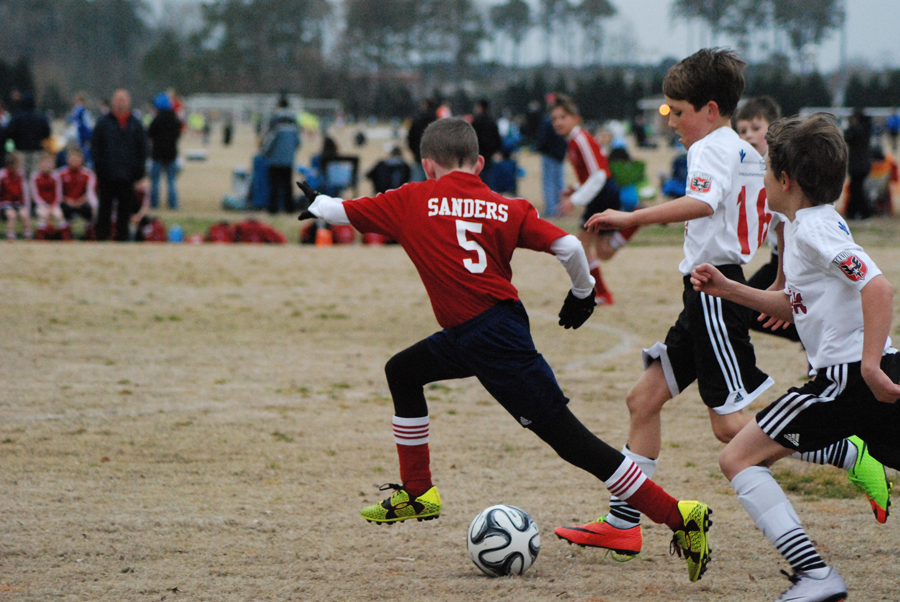 The team hotel was about 30 minutes from the boardwalk, where the race starts. I had booked a separate hotel room on the boardwalk for Saturday night. This would make getting up and to the start line a lot easier than driving the 30 minutes and trying to find a parking spot. I bunked with my friend Scott, who also had a daughter playing soccer in the tournament, and was running the half marathon. He drove, so Jen was able to take Connor to the field in the morning.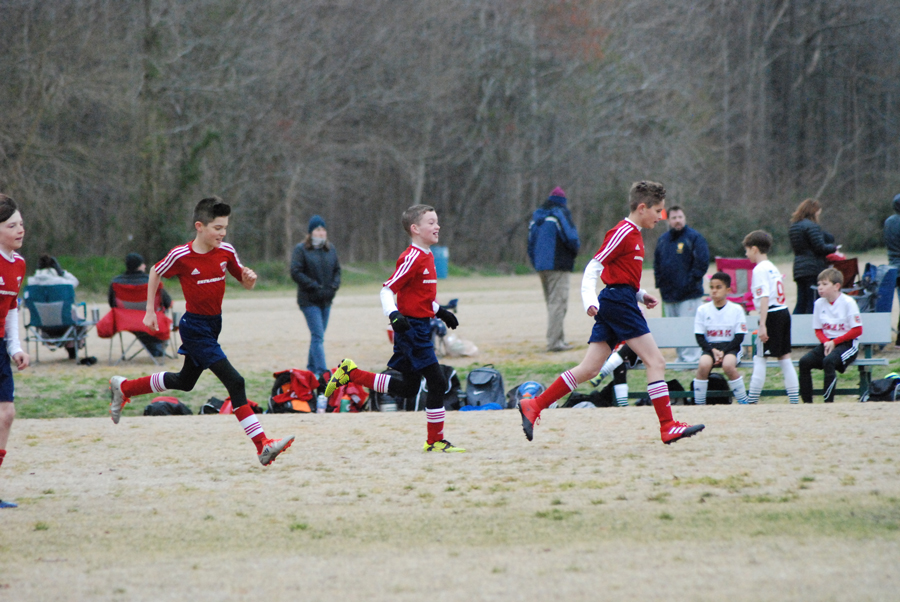 Sunday, we awoke to a dark, gloomy, rainy morning. After a quick shower and bite to eat – half a bagel with peanut butter, and a failed attempt at Nuun (Jen had brought dish detergent down in an empty Nuun tube. Guess which tube I grabbed before leaving the team hotel. Yeah…). I dressed in my gold shorty shorts (I couldn't find any shiny gold ones that didn't look like something you wear on stage at a male review), INKnBURN Lucky Irish themed singlet, bib attached with my RaceDots, slid into my Injinji socks, laced up my trusty SKORA Phase shoes and donned my For Lucas Headsweats hat. It was not going to be a good day for my goodr glasses, which were picked to match the St. Paddy's theme. I did have some Beet Elite that I mixed in my water. I chugged the dark red liquid before heading out the door. "WooHoo! Tiger Blood! Let's go!" Scott now thinks I am total weirdo – if he didn't already.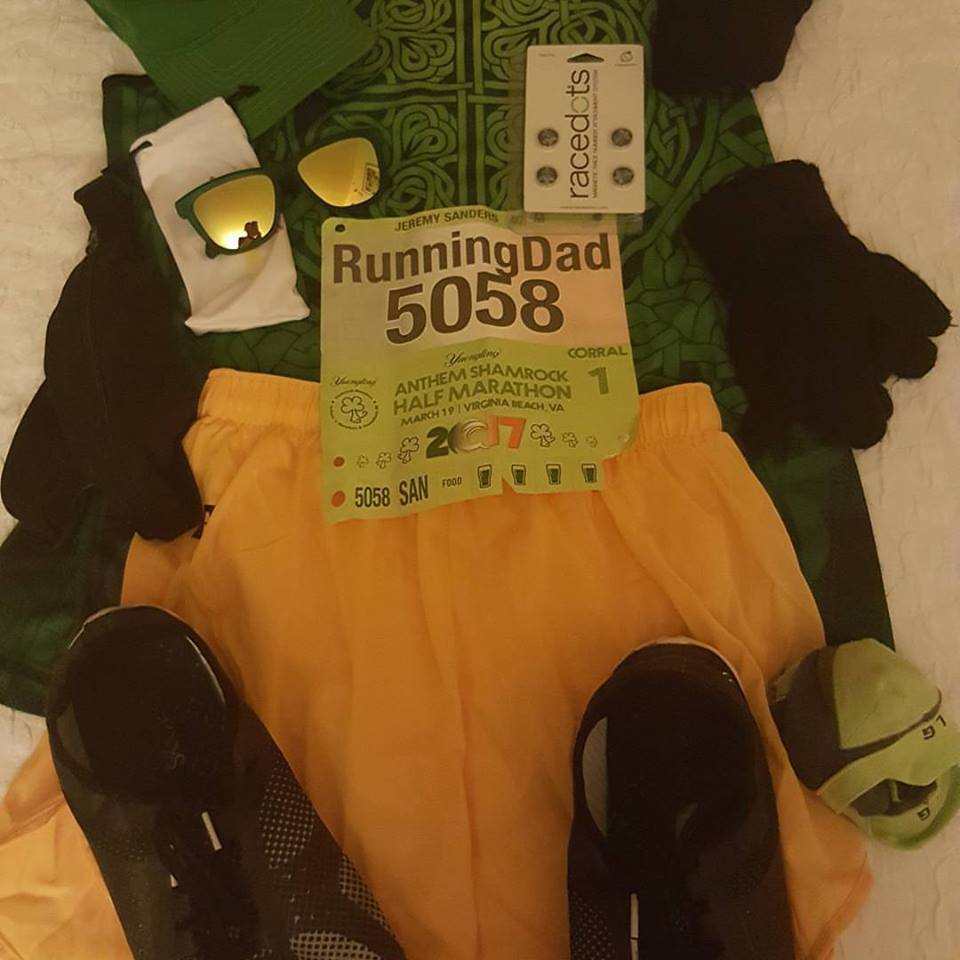 We jogged in the pouring rain to the start, finding running partner and member of Team Running Dad, Becky "RUNaissance Mom" McGraw along the way. The three of us impatiently paced around the start line, ditching our soaked warm up clothing that we would not need for the race. The National Anthem was sung. Bart Yasso gave a quick good luck speech. It was go time. The horn sounded and we were off.
I have run the Shamrock full marathon twice in the past. The Half Marathon is actually the second 13.1 miles of the full. It heads north toward Fort Story where it turns and comes back toward the finish on the boardwalk. Heading out, the wind and stinging rain was in our face. I settled into a 6:20 per mile pace and continually worked on passing the people in front of me without burning myself out too early. As the course entered a wooded area around the three mile mark, the rain and wind was blocked by the trees. Here I started to find my rhythm and my pace went to 6:00 per mile. I kept this steady pace through the wooded area and onto the road that leads out of Fort Story.
Here the wind hit us, blowing from left to right. I pulled my hat down even tighter and braced against a barrage of sand that was blowing between sand dunes on the beach. It had created a swath of sand across the road about 3 inches deep. Shielding my face and shouting some expletives, I trudged through the sand and kept the pace steady in the low 6's.
I had been running beside another runner who matched my cadence and pace. We exchanged a few comments and fist bumps along the way. It is crazy that you can make friends in the middle of a race. Millard "Tom" Thomas and I steadily clicked away the miles before we caught up to the 3rd place female at mile 10. We passed her, but encouraged her to tuck in with us and pursue the second place female in front of us. She picked up her pace and was soon shoulder to shoulder with Tom and me. With about a mile left, she pulled ahead of us and went all out to try and catch the second place spot. We shouted after her words of encouragement, which I am sure surged on the target of her pursuit. The second place female continued to keep the distance between them.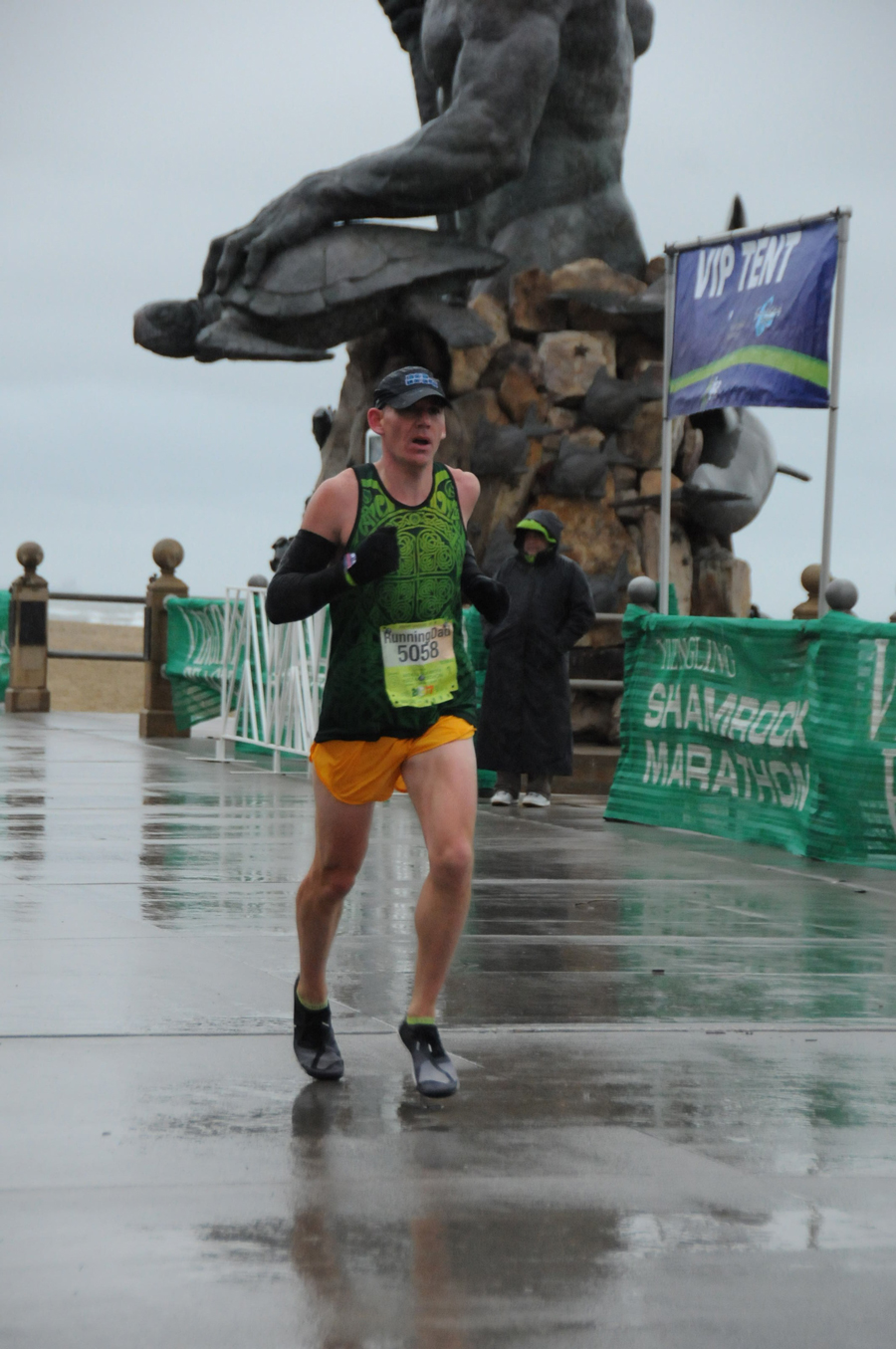 In that final stretch on the boardwalk, we all came across the line within a second of each other – Tom, Ann, then me. I finished with a 1:21:27. Four minutes faster than my previous best half marathon time. I got a picture with my two new friends. I waited at the finish chute for Becky to bring it home.
I have been running with Becky several days a week for eight months now, and she has continually gotten stronger and faster. I knew she would exceed her personal best time. I didn't have to wait long. She came across the line at 1:29:10. She killed it! But is was freaking cold and we needed a beer! Sorry, Scott, we'll catch you in the tent.
Becky and I grabbed a post-race beer and some soup to try and warm up. It wasn't working for me. I was shaking like crazy. Part of it was from coming down from such a high of my best half marathon, the other was due to the fact that it was cold and I was half naked. Scott arrived and we all stood around shivering for a few minutes then headed back to the hotel to shower. Becky stayed to cheer on her husband, John, who was running his first half marathon. He got the full experience with the nasty weather and all. Way to go, John!
Scott and I got our stuff together and headed for the soccer fields. I got an email that the games were being shortened by 10 minutes since the weather was getting bad. Our chances of making it in time to see anything was getting slim. Jen texted me that the boys were up 2-0. YES! Then another text that it was 2-1. OK. After a while another text: 2-2 with only a couple minutes to go. We were still 10 minutes out. Crap. I asked who was in goal. Connor. Double crap. I wasn't there to witness it, but I was stressed out from afar. Time expired with the score tied, so they went to penalty kicks. I was still in the car, living vicariously through Jen's text updates. Connor was still in goal for the PK's. You get 5 shots, alternating teams. The opposing team went first. They kicked, They scored. Our boys responded with a goal of their own. This went back and forth until the last player on the other team kicked. Connor got his hands on it, knocked it in the air, then smothered it as it hit the ground. No goal! Our last player went, and scored! Ball game! I got the "We won!" text as we pulled in the parking lot. Damn. Great that we won, but I missed it by mere minutes.
I felt awful for missing Connor's moment in the spotlight. I ran to him and hugged him telling him I was sorry, and that I was proud of him. The poor kids were frozen. Parents were whisking them away to their cars to get warm. It had started to snow and sleet. Connor asked how I did, through chattering teeth. I told him my time. "I-I-I'm p-p-p-p-rou-d-d-d of you, t-t-t-t-too, D-D-D-Dad-d-d-dy" he told me. We whisked him away to the car and got him warmed up. We got a notice that the rest of the games were canceled for the weekend due to the weather and the fields being trashed. We headed home, catching up on the day's events.
It turns out, Becky and I both won our age groups! Shamrock Running / Soccer weekend was a success and a test of endurance for all involved. A lot of great memories were made.
Definitely check out the Shamrock Races. Read more here
On to the next races … and games.