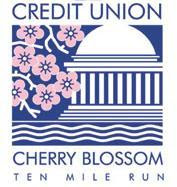 In 2016, I watched the live feed of the 44th Annual Cherry Blossom 10 Miler in Washington DC. I managed to catch screenshots of several of my friends as the crossed the line. Mike Wardian, Matt Lofton and Alex Lane (out-kicking Meb Keflezighi at the finish). If I were Alex, I would make that a poster and hang it in my living room.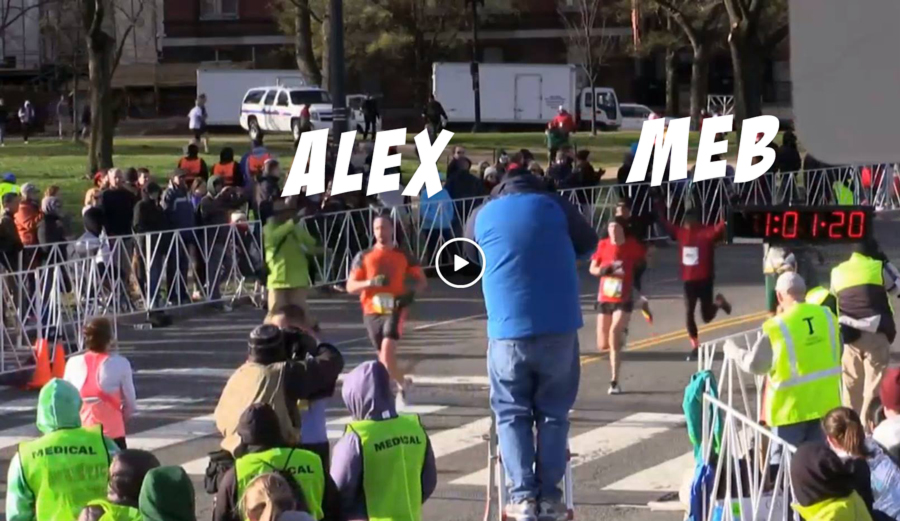 This year I entered for the lottery to try and get a bib. Well, I thought I did. Somehow I must have gotten distracted … LOOK, A SQUIRREL … midway through and never completed the entry. When I went to see if I got in, I realized my error. Luckily, you can purchase bibs from other runners after the lottery cut-off and have them transferred to your name. That's what I had to do to get into the 2017 race.
At 3:30 AM on race morning, the Running Dad Bus, AKA the McGraw's Pathfinder, picked me up at my house and we were on our way. We picked up the Ilnicki's and Mario in Front Royal and continued down the highway. John drove while I navigated. The rest of the crew, with less important tasks, joked and chattered the whole way until we arrived at our designated parking garage. That's good pilot and co-piloting, right there.
After a short walk through the city, which is pleasantly quiet at 5:30 AM, we found the gathering point for the race in the Washington Monument's moon cast shadow.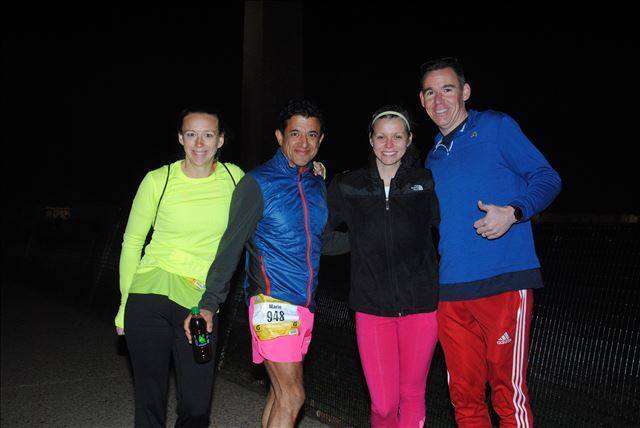 Alex was to meet us, but we knew he would be late. That's just Alex. It's what he does and we're cool with that. As the start time neared, we stripped off our warmups to show off our bright pink shorts. The idea for pink shorts all started when someone asked if we were all going to match as a team. Mario suggested pink, having just become a proud grandfather of a baby girl, Alohi. Alohi was born prematurely and is still being cared for and getting stronger in the hospital. So we all said we would go pink for Alohi. Weird coincidence: the same day our shorts arrived, I saw a friend share a post on Facebook by "That Guy In The Pink Shorts". It turns out, he uses pink shorts to draw attention to child abuse and neglect and raise money for Comfort Cases. That is a cause I can get behind, so I contacted him and told him we were piggybacking his idea and spreading the word about his cause.
Pink shorts and Running Dad shirts. We were set!
We headed to the start line, leaving our extra gear with John and Josh who were not running. In the yellow wave was Becky, Mario, Alex (still nowhere to be seen) and me. In the red wave was Sara. Lining up at the front of the yellow corral, which was directly behind the special area reserved for Elites, we started to see some familiar faces. It was like a family reunion. Duane, Juan, Keith, Chuck and FINALLY Alex found us. We knew he'd make it!
My goal for the race was to be right around 60 minutes. I had run very strong two weeks prior at the Shamrock Half Marathon. This was my first time running Cherry Blossom, but I was told it was really flat. And the weather was perfect. Cool and clear. I felt confident and having friends with me added to my comfort level. I still had the pre-race jitters and got my mind focused on the task at hand.
After the National Anthem and the start of the elite women, we were turned loose on the course. Up front, it wasn't extremely crowded. I did not feel boxed in like some races of this size. Over 15,000 runners were there, but fortunately, most were behind me. That included Mario, with whom I have a friendly rivalry. That rivalry has pushed us both to faster and faster race times. There are a couple out-and-backs on the course that allow you to see the runners behind you. I got a chance to see Becky and Alex at the 5k mark, shouting encouragement to each other. The pink shorts made it easy to find each other in the crowd. Mario was right with me at this point. We were setting a nice fast pace.
By mile 6, Mario had pulled ahead of me. The course goes along the water at this point. I remembered it from the Marine Corps Marathon that shared this section of road. My stomach started to really bother me. Not what I needed at this point. No, I did not eat Mexican the night before. I was seriously contemplating jumping in a port-a-pot if I saw one. It was quite uncomfortable. But fortunately the pain passed and I was able to regain my composure. The pink shorts were safe, for now.
At mile 8, I pulled even with Mario. We passed the mile marker at 48:47. "We've got 60" I told him. "Let's go" he responded. We stayed shoulder to shoulder up to the sign along the road that said 800 meters to go. There was a slight hill, so I took it as an opportunity to pull ahead. By the time I reached the top, I was running out of steam. Then I saw the finish line and the clock ticking closer and closer to the 60 minute mark. I raced down the hill as fast as I could and across the line just a fraction ahead of 60:00. I came in at 59:54. Mario was right behind me with a time of 1:00:02. I owe him a lot of gratitude for continually pushing me. Friendly competition leads to better results.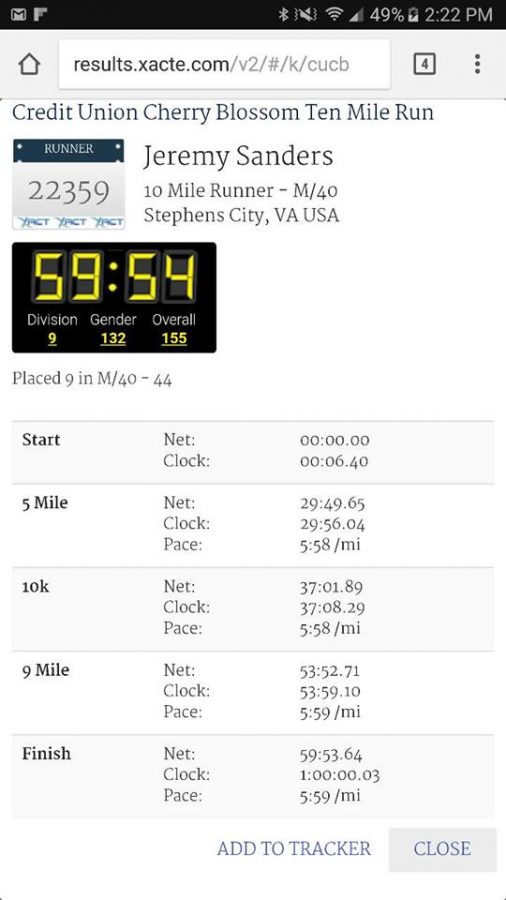 We waited for the rest of Team Running Dad to come across the line. Becky flew down the hill to blow her goal time out of the water with 1:03:50. She continually sets the bar higher and crushing it every time. Alex came across next, followed by Sara. It was a great performance for the team. I could not have been prouder to be surrounded by such a positive and talented group of people.
After the race, we connected with Lisa and Vern and headed for brunch. And beer. We needed beer.
I thoroughly enjoyed the race and had a great time with my running family. Surround yourself with positive people, with common goals, and you can tackle any challenge.
Challenge yourself with the Cherry Blossom 10 Miler. Just remember to hit "submit" when you are entering the lottery.
CHECK OUT BECKY'S RECAP OF THE RACE! Great read from a teammate's perspective.