I am always losing my running sunglasses. Or they fall off my face mid-run and I come close to making an acrobatic catch, tipping them in the air, but never securing them, only to have them crash to the ground, leaving a scratched lens that will drive me nuts every time I wear them thereafter. Replacing my running sunglasses has become a neverending circle. I buy a new pair at each marathon expo that I attend, usually spending around $30 for some "cheap" glasses. The glasses I usually choose are sleek and lightweight. And boring.
Then I saw an advertisement for goodr glasses. The wayfarer style glasses come in a variety of hideously gaudy colors … that I love. Of course I had the bright orange ones in my shopping cart, the credit card out of my wallet, and the submit button clicked before I even realized what I was doing. Once I got myself back in control, I went back and read about the glasses. "No slip. No bounce. All polarized. All fun." OK. I like all that.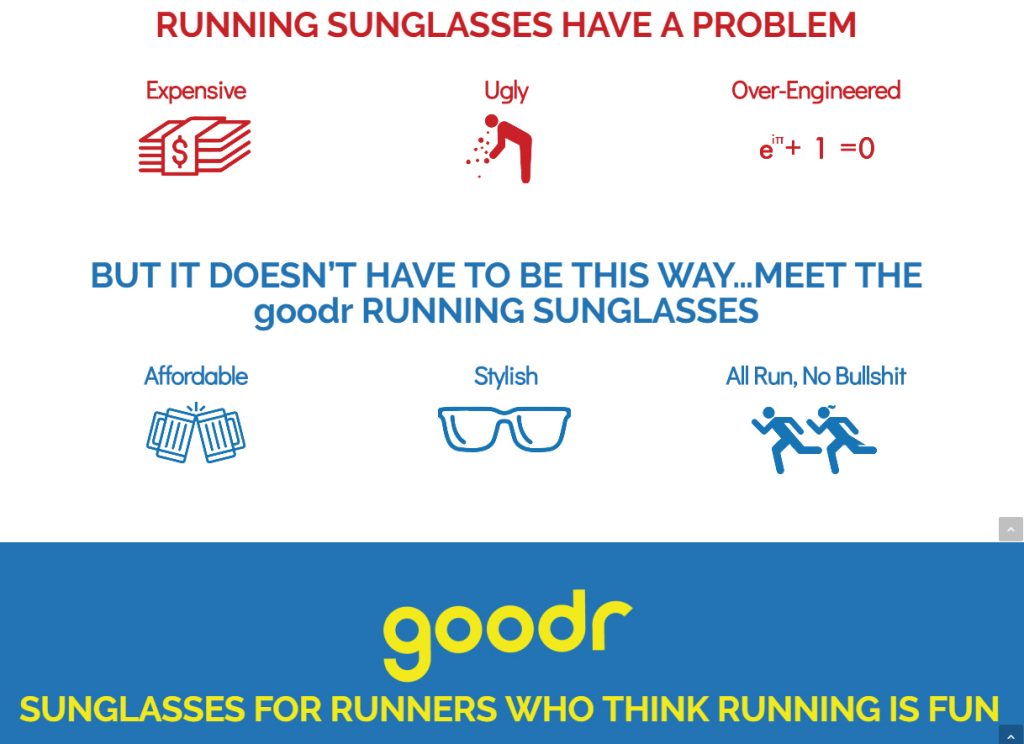 I clicked through the site, laughing at the offbeat humor that the company exhibits in their marketing. I can get behind a company that likes having fun. Their blog is quite fun to read. I was sold on goodr at this point, and figured I better check the price before I hit "purchase".
$25.
Seriously?
Seriously!
I had my new glasses in-hand in just a few days. When I put them on, my wife said, "They look like something Connor would wear." Sweet! I have the fashion sense of a 10 year old. That means this old dude is still hip, right? I think I look cool. That's all that matters. At least that is what I tell myself. She was correct. Connor now wants a pair of the florescent yellow glasses. 
Too bad most of my running this winter has been in the dark, or I would be wearing these glasses for every run. When I have gotten out in the sun to run, they perform great! As advertised, they stay in place and the polarized lenses are perfect for battling the sun. I have run several races in them. No complaints. You can't go wrong with these glasses – Unless you are my friend Vern, and his wife says he can't go out in public in them. Come on Lisa, afraid the girls will swoon over his hip new shades?
They keep putting out new colors, which makes it really hard not to impulse buy. I really need a pair of purple framed glasses that have the nickname "Gardening with a Kraken". Or black on black with a title "A Ginger's Soul." I give them points for creativity. How can I not get "Iced by Yetis" for my 100 miler?
I highly recommend goodr glasses. Great price, perfect fit, protected vision, and lots of fun.
Look for some good(r) things coming up with Running Dad and goodr.