I am a runner. I like to be moving around. When I sit for any extended period, I start to hurt. My legs, back, and especially my right foot (plantar fasciitis) bother me every time I get up from my office chair. As a graphic designer, I am stuck behind my desk for the majority of my work day. In the evenings, after soccer, baseball, or basketball practice, I am usually reclined with one or both of my boys draped over me or crowding me off the couch in some fashion. So limiting the time that I am sedentary helps to ease some of those aches and pains.
I recently talked my employer into purchasing two standup desks for our graphics department. I can honestly say that it has helped immensely with reducing the everyday aches and pains that come from being a runner in training — and closing in on forty years old **gasp**.
I had done some research on the adjustable height desks and picked out the brand Varidesk. They looked sturdy and well put together. They also had a pretty high price tag, ranging from $275 to $400 . With a printout in hand, I approached my manager with the benefits of a standing desk. There are a lot of studies you can find on the internet about the health and productivity benefits of working at a standing desk versus sitting all day. I'll focus on my personal assessment of the Varidesk and how it has worked for me.
At the Boston Marathon Expo, I spotted the Varidesk booth and made my way over to try one out in person. I was impressed with the quality of the product. The Varidesk actually sits on top of your existing desk. When sitting flat, it is about 6 inches taller than the surface of the desk. There is an area for your keyboard and mouse below a raised platform for your monitor(s). The work surface raises by squeezing the two handles on the sides of the Varidesk. It can lock into any height you want your work surface to be. Once locked in, it is solid. I leaned on it and it remained stable. Lowering it back to the desktop is easy. Squeeze the handles and gently lower it back down. I grabbed a brochure and a business card and continued browsing the expo.
Following the marathon, my manager was talking budget and mentioned the standing desk. I handed him the brochure and business card. He gave me the green light to request a 30-day trial as promised by the Varidesk salesman. I placed the request and the salesman I talked to even gave me the Boston Marathon discount that covered the shipping costs. We would receive an invoice with the desks, and if we decided to keep them, we simply pay the invoice. If we chose to send them back, Varidesk would cover the return cost as long as we re-packaged everything in the original boxes.
About a week later, two boxes arrived. Two very  heavy boxes. Luckily my office is in a warehouse and we have a lot of dollies and platform trucks to move heavy objects around. I delivered the boxes to our office and unpacked everything. No assembly was required. I was thankful for that. I dread putting things together. I don't even want to think about the basketball hoop I put together for Connor last month. A lot of foul language and blood was shed that weekend. These Varidesks just required a bit of muscle to get them out of the box and on the desk tops. After some rearranging of monitors, keyboards, and wires, Amie and I were up and working. Literally.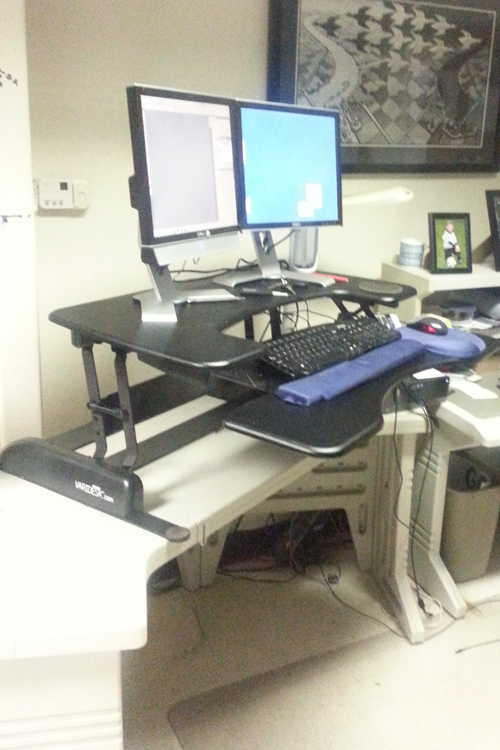 My Standing Desk by Varidesk.
I have been working at the Varidesk for over a month now and I absolutely love it. I'd estimate that I spend 70-80% of my work week standing at my desk now as opposed to sitting. My legs feel a lot better and the pain in my foot is non-existent.
If you spend a large percentage of your time at work sitting, I would recommend getting up working at a standing desk. I can do calf raises and stretches, all while working. My legs feel so much fresher when I run in the evenings.
My legs and back still get a bit tight and sore in the evenings when relaxing with the family, but I wouldn't trade that time for the world! Check out Varidesk. It will make your time working more comfortable.