There are several ways to keep track of my progress at the Boston Marathon. The marathon will be broadcast on television, website, webcam, and there is even an app for your phone that gives real-time updates. Here is what you need to follow me Monday, April 20th:
ON TELEVISION
The marathon will be broadcast on Universal Sports, an NBC affiliate network. I found it on DirecTV last year. I'll be wearing a bright orange racing singlet with the Running Dad logo in white on the front, black shorts and black shoes.
ON THE WEB
If searching on the Boston Marathon website you will need the following information:
Jeremy Sanders, Bib #5559
I am in Wave 1, Corral 6. Wave 1 starts at 10AM. I probably will not cross the start line until a few minutes after the official start since it goes by corrals.
The B.A.A. site has an interactive map that will show exactly where runners are on the course. You can select several runners to track during the race. I did this last year and followed three of my friends while they ran.
Here is the website address – http://raceday.baa.org/individual.html
Below is a screenshot of the interactive map. During the race, a little runner icon shows up where the runner is at that point in time.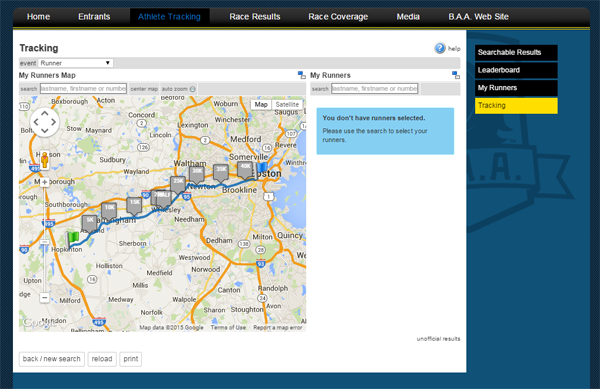 For live video streaming online during the race, go to http://watchlive.baa.org/ starting at 9:30 a.m. ET
THERE'S AN APP FOR THAT
Click here for app download page.
The 2015 Boston Marathon mobile app, powered by AT&T is now available in your App Store. Simply search "Boston Marathon," or update the 2014 version on your mobile device.

This year, fans will be able to get six AT&T Athlete Alerts on up to 10 people on race day. Check out the maps section for mile-by-mile course information, as well as locations of hydration stations and nearby public transportation stops.

The weather section gives you hourly forecasts from eight cities and towns, and the photo booth allows you to place a frame on your photos and ship them to your fans around the World. It's here, it's free, and it's yours. Enjoy!
BY PHONE
Using AT&T Athlete Alert, you can have updates texted or emailed to you. Click here to sign up.