I have been holding off on posting much about the big race I have coming up next week. I just finished running the Kauai Marathon on September 3rd. I didn't want to overshadow that race with a race of mythical proportions; the Yeti 100 Miler.
I saw the Yeti 100 pop up on my newsfeed one day and thought, "A 100 miler. Sounds fun! And crazy." I shared the race shortly after and got a response of "If you do it, I will, too" from my buddy Josh. Would I really do it? Let's check out the registration. Closed. Darn. Maybe next year. Sorry, Josh.
Whew.
I was a bit relieved. I mean, seriously, 100 miles. Crazy. 50 miles hurt bad enough.
Well, maybe I am a little crazy. Let's email the race director and see if I can get Josh and I at least on the waiting list. I didn't want to let Josh down, right? Although he did admit he, too, was relieved when he found out it was closed. What harm would it do to get on the waiting list?
A week later, an email arrived with a link to register. Jason, the race director, had pushed us through and we could run the race.
Hooray!
Oh, #%!&! 
We are in … yikes.
So here we are with the Yeti looming in the bushes, waiting for us on September 29th in Abingdon, Virginia.
Like most ultra marathons of the 100 mile variety, a belt buckle is the coveted prize. The Yeti buckle is adorned with a hairy sasquatch, majestic unicorn, a rainbow, pot of gold and a train. It can't get much cooler than that.
Unless …
… you "call your shot". If you publicly announce that you will run the 100 miles in less than 24 hours, you get a special hand-painted buckle. If you finish in 24:00:01 or slower, you go home empty handed. No special buckle. No regular buckle. No participant ribbon. Nothing.
Of course, two minutes after the announcement of the "Call your shot" challenge, Josh and I were messaging back and forth, "If you do it, I will". Sounds a lot like conversations I had as a kid that ended up getting me grounded for a month.
We accepted the challenge.
Then this past week, I doubled-down on the "shot called".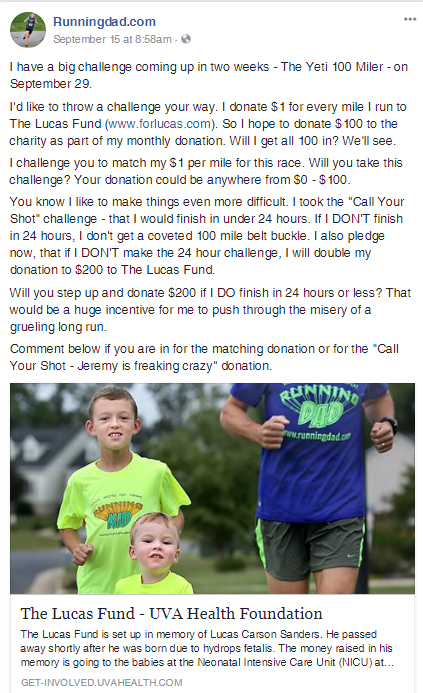 Training has gone well. Our plans of doing 50+ mile training runs, 24 hour practice runs, sleep deprivation practice and night runs never came to fruition. We did manage to squeeze in a 30+ mile training run. We didn't die or kill each other, so that counts as a success. And I have broken my record for most miles in a month these past two. So we are at least kind of prepared.
I think.
I hope.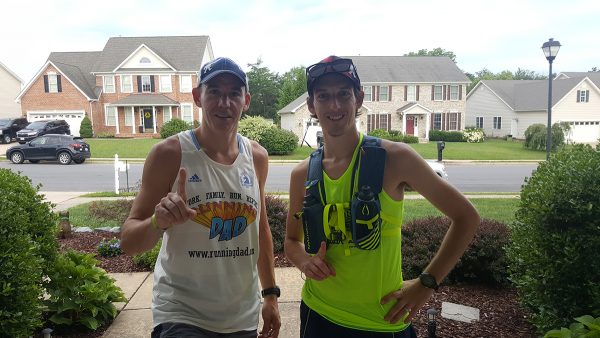 We have a great support team coming along to cheer us on and help pace us for the long out-and-back-and-back-out-again course. The race runs along the Virginia Creeper Trail, named after a train that used to meander through Abingdon, Damascus and White Top. There are over 100 trestle bridge crossings along the way. The surface is a mixed gravel and packed cinders substrate. Not technical like portions of the JFK 50 that I have run the past couple years. Hopefully this will be conducive to a sub-24 hour effort on our parts.
100 miles.
Yikes.
But that buckle …