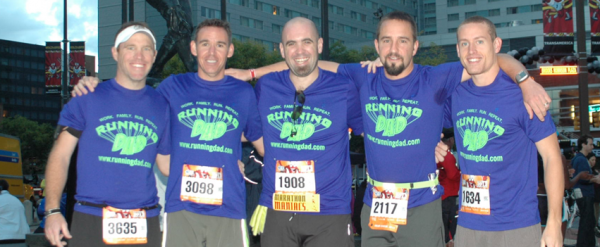 UPDATE – The Sponsor a Running Dad campaign for the 2013 Baltimore Marathon helped to raise over $1650.00 for the babies and their families at the UVA NICU. Thank you to all who donated and to Team Running Dad!
Lucas Carson Sanders was born September 18, 2004. He passed away shortly after he was born due to hydrops fetalis. In that short period of time that he blessed us with his presence, he touched the lives of many people.
In memory of Lucas, my wife, Jennifer, and I set up The Lucas Fund. The money raised in his memory is going to the babies at the Neonatal Intensive Care Unit at UVA. The money will be used to provide the babies with diapers, blankets, pacifers, and any other necessities the babies and their families might need during their stay.
In July of 2013, I pledged to donate a dollar per mile that I run at the end of each month. I am also putting together a Team Running Dad for the Baltimore Marathon in October of 2013. We hope to raise enough money through the Lucas Fund to help as many babies and their families as possible.
SPONSOR A TEAM RUNNING DAD runner in the Baltimore Marathon! $1 per mile is only $26.20. Go to www.forlucas.com and donate today!